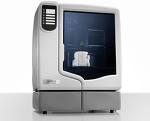 The Printer
The Dimension BST incorporates the same technology as the Dimension SST (Soluble Support technology) and therefore produces the same high-quality ABS and ABSplus models. The difference is that the Dimension BST features a manual support removal process where the designer removes the model from the system and breaks the support away by hand.
The Dimension BST Printers are network compatible and produce durable working models from ABS and ABSplus with the click of a button.Once the model is printed, simply remove the model from the printer, peel away the supports and begin using the functional model.
The Software
When you teach with SolidWorks® software, you give your students the CAD skills they need for rewarding engineering careers. SolidWorks is the same software that engineering professionals worldwide use to design innovative, real-world products.
CAD software that is easy to teach, learn, and use
SolidWorks Education Edition includes the complete curriculum and courseware, making it easy for you to teach at every educational level.
SolidWorks is also simple for your students to learn and use. That means they can concentrate on learning the principles of engineering and design, and feel the excitement of seeing their creations take shape. Outside the classroom, they can hone their CAD skills with SolidWorks Student Edition.