Pasco Science Workshop
The 500 Interface is a versatile solution for all sciences that combines good desktop performance with datalogging capability. Compatible with over 40 ScienceWorkshop sensors for use in Chemistry, Biology, Earth Science and Physics.
Features:
Datalogging — The ScienceWorkshop 500 Interface collects data directly to a computer, or students can collect data with just the interface and a sensor. Students can set up an experiment using the 500, disconnect from the computer to collect data outside the classroom and then reconnect for data analysis.
Portability — With a built-in battery compartment for 4 "AA" batteries, the ScienceWorkshop 500 Interface can go just about anywhere and still collect data.
50 KB Storage Buffer — Stores data runs and experiment setup information.
Cross-Platform Data — Logged data will open on either a Macintosh or a Windows-compatible computer. The interface stores the sensor and data display information so it knows what experiment setup to open.
The Pasco Dynamics System is designed to equip your lab with carts and tracks for Newton's Laws, collisions, velocity and acceleration experiments. The accessories, included experiments in constant force with a fan cart, friction, and oscillations. Also, all PASCO Dynamics Systems are specifically designed to accommodate sensors for computer data acquisition.
The newly redesigned feet and endstops have captured nuts which automatically align with the track T-slot, making it easy to slide them onto the track. This kit involves activities for scientific experiments in Physics, Chemistry, Biology, Physiology and General Science.
Each kit includes:
5 – 500 interface controllers
29 Probes for Physics, Chemistry, Biology, General Science and Middle School Science
Dynamics Track
Vernier Science Workshop
Earth Science Package
Earth Science with Computers contains 33 experiments in the subjects of geology, meteorology, hydrology, oceanography, energy, water quality, and soil quality. The complete table of contents by sensor is listed below. Integrating data-collection technology into your Earth Science courses is now easier than ever.
Earth Science
Table of Contents (listed by sensor)

Temperature Probe
Introduction to Data Collection
Soil Temperature
Water Quality – Temperature
Freezing of Ocean Water
Reflection and Absorption of Light
The Greenhouse Effect
Land and Sea Breezes
Relative Humidity
Dew Point
Wind Chill
Seasons and Angle of Insulation
Fossil Fuels
Solar Homes
Light Sensor
Reflection and Absorption of Light
Photovoltaic Cells
pH Sensor
Soil pH
Soil and Acid Rain
Water Quality – pH
Water Treatment
Acid Rain and Its Effect on Surface Water
Conductivity Probe
Soil Salinity
Water Quality – Total Dissolved Solids
Water Treatment
Salinity of Ocean Water
Desalination
Motion Detector
Mapping the Ocean Floor
Turbidity Sensor
Water Quality – Turbidity
Water Treatment
UVB Sensor
Are All Sunglasses Created Equal?
Comparing Sunscreens
UV Light and Clothing
Magnetic Field Sensor
Exploring Magnetism
Where IS North?
Searching for Iron Ore
Sea Floor Spreading
Current Probe
Photovoltaic Cells
Wind Power
Voltage Probe
Photovoltaic Cells
Wind Power
Biology Package
Biology with Computers has 31 experiments in cell respiration, photosynthesis, membrane diffusion, osmosis, human physiology, transpiration, fermentation, and other important biology concepts. The complete table of contents is shown below. Experiments are included for 12 Vernier biology sensors. This book supports seven AP Biology lab activities.
Biology
Table of Contents (listed by sensor)

Gas Pressure Sensor
Enzyme Action: Testing Catalase Activity (AP)
Transpiration (AP)
Cell Respiration (AP)
Sugar Fermentation
Effect of Temperature on Fermentation
Osmosis
Lactaid Action
Control of Human Respiration
CO2 Gas Sensor
Cell Respiration (AP)
Respiration of Sugars by Yeast
Effect of Temperature on Respiration
Effect of Temperature on Cold-Blooded Organisms
Lactaid Action
Photosynthesis and Respiration
Colorimeter
Photosynthesis (AP)
The Effect of Alcohol on Biological Membranes
Biological Membranes
Population Dynamics
Conductivity Probe
Limitations on Cell Size
Diffusion Through Membranes (AP)
Conducting Solutions
Watershed Testing
Physical Profile of a Lake
Dissolved Oxygen Probe
Interdependence of Plants and Animals
Aerobic Respiration
Dissolved Oxygen in Water
Watershed Testing
Physical Profile of a Lake
Primary Productivity (AP)
EKG Sensor
Monitoring EKG
Exercise Heart Rate Monitor
Heart Rate and Physical Fitness (AP level)
Ventilation and Heart Rate
O2 Gas Sensor
Photosynthesis and Respiration
Enzyme Action (AP)
Cell Respiration (AP)
Oxygen Gas and Human Respiration
Effect of Temperature on Cold-Blooded Organisms
pH Sensor
Acids and Bases
Interdependence of Plants and Animals Acid Rain
Watershed Testing
Physical Profile of a Lake
Respiration Monitor Belt
Control of Human Respiration
Temperature Probe
Energy in Food
Aerobic Respiration
Biodiversity and Ecosystems
Dissolved Oxygen in Water
Watershed Testing
Physical Profile of a Lake
Physics
Physics with Computers has 34 experiments in mechanics, sound, light, electricity, and magnetism. This book has a wide variety of experiments for Motion Detectors, Force Sensors, Light Sensors, Magnetic Field Sensors, Microphones, Current & Voltage Probes, Photogates, Temperature Probes, and Accelerometers. The complete table of contents is shown below. Experiments are included for eleven Vernier physics sensors.
Physics
Table of Contents (listed by sensor)

Motion Detector
Graph Matching
Modern Galileo Experiment
Determining g on an Incline
Ball Toss
Air Resistance
Simple Harmonic Motion
Energy of a Tossed Ball
Energy in Simple Harmonic Motion
Work and Energy
Momentum, Energy and Collisions
Impulse and Momentum
Back and Forth Motion
Force Sensor
Newton's Second Law
Newton's Third Law
Static and Kinetic Friction
Impulse and Momentum
Work and Energy
Photogate
Picket Fence Free Fall
Projectile Motion
Atwood's Machine
Pendulum Periods
Accelerometer
Bungee Jump Accelerations
Newton's Second Law
Microphone
Sound Waves and Beats
Tones, Vowels and Telephones
Mathematics of Music
Speed of Sound
Temperature Probe
Newton's Law of Cooling
Current & Voltage Probe
Ohm's Law
Series and Parallel Circuits
Electrical Energy
Voltage Probe
Capacitors
Magnetic Field Sensor
The Magnetic Field in a Coil
The Magnetic Field in a Slinky
The Magnetic Field of a Permanent Magnet
Light Sensor
Polarization of Light
How Light Intensity Varies with Distance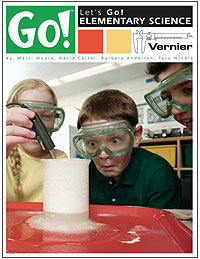 Elementary Science
Our new Let's Go! Elementary Science book contains 34 fun and engaging experiments for students in grades 2-6. Activities investigate the topics of temperature, motion, force, magnetism, light, electricity, and pressure. Also included are lots of teacher tips, black-line masters, and clear illustrations to facilitate student understanding. Microsoft Word files are included on CD for easy editing.
Each Vernier Lab Book includes:
Complete student experiments with materials list, step-by-step instructions, data tables, and questions.
Teacher Information section for each experiment with complete directions for setting up experiments, helpful hints, and sample graphs and data.
Word-processing files of the student sections on a CD so that any experiment may be easily edited to your specifications (Microsoft Word for Macintosh and Windows files). Each CD includes both the computer and calculator version of each student experiment!