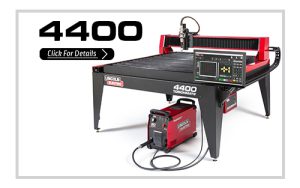 The Torchmate 4400 CNC Plasma Cutting Machine is a new addition to our High Tech Modules in 2018.  The Torchmate 4400 is a fully assembled 4×4 CNC plasma cutting table consisting of production-grade components built into a small machine footprint.  This allows for a real world manufacturing tool to teach CAD software and CNC operations and is a perfect fit for high school and vocational training classes.
Advanced technological features such as a touch-friendly user interface, integration with CAD and CAM software, Ethernet connectivity and digital torch height control are standard advanced technological features of the Torchmate 4400.  Students will grasp CAD and CAM design, as well as see the completion of their design into a final product.
The Torchmate curriculum covers 11 comprehensive chapters created by a team of professional welding and fabricating educators.  Topics include:  CNC Related Software and Coordinate Systems, Introduction to Torchmate CAD, Tool Paths and G-Code Programming.  Students will be able to cycle through the curriculum from beginning to end, learning about the history of the technology, its applications and finally, how to program and operate the table.